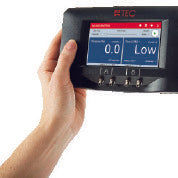 TEC - DG-1000 Pressure and Flow Gauge
Regular price $2,675.00 Sale
The future of gauges is here.  The DG-1000 is the most advanced digital pressure gauge for building performance testing with the accuracy you expect from TEC.
TEC DG-1000  Features
High Resolution Touch Screen: Gives you improved visibility and usability with the touch of your finger
Intelligent Micro-Processor: Puts the power of a mini computer in the palm of your hand
Future-Proof Technology: Continually equips you with the latest software and app additions
Accurate Readings at 0.9%: Upholds your confidence of accurate results from TEC equipment
Intuitive Landscape Orientation: Makes holding the DG-1000 naturally comfortable.
Fan Speed Slider: Lets you control your fan directly from the gauge for efficient testing
Hold Function: Gives you time to record readings with ease
Lithium Batteries: Equips you with a rechargeable and replaceable power source on the job
Product Compatibility: Works with all TEC equipment and software for seamless use
WiFi, USB and Ethernet Ports: Provides you with a variety of connection options
Texturized Durable Case: Ensures optimal grip in rugged environments and protects your gauge from accidental damage
Powerful Mounting Magnets: Provides dependable and convenient mounting options
Product Number: 
DG10-KIT-001
The shipping fee is not included in the listed price. Please contact Radon West at 403.723.6665 for a shipping quote.