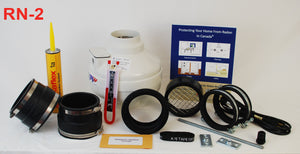 Mitigation kit - RN2 Fan - Do-It-Yourself - Sub Slab Depressurization
Regular price $510.00 Sale
This kit contains all the difficult to find bits to complete your own Do-It-Yourself Active Slab Depressurization radon mitigation system and with the RN-2 fan.
These systems have demonstrated up to a 99% reduction in indoor radon levels. Just add pipe, pipe cement and some sweat equity, and you can start breathing safe again.
Health Canada strongly recommends hiring a certified C-NRPP radon mitigation professional.  Professionals can properly determine airflow and fan sizing requirements, seal radon entry paths, identify potentially deadly back-drafting situations, and properly seal building envelope penetrations. 
However - if hiring a pro is not an option, following the DIY manual included in this kit gives you a good chance at constructing a radon mitigation system that is both safe and effective.  Be sure to consult with a pro if you have any questions relating to the safety of your system.  
This kit is to be used with 4" schedule 40 PVC or ABS pipe.
Included
A Step by Step Manual - Protecting Your Home From Radon In Canada - Doug Kladder
RN2 Fantech inline radon fan
2 Fantech flexible Fernco black couplers
Electrical cord (8' two prongs)
Electrical strain relief
Sealant indoor tube – 300ml
Uniseal 4" Bushing
Bracing kit with 2 noise-reducing ring clamps, 1' threaded rod, 2 ceiling plates, 8' of web strapping
4" U-tube manometer
Sound reducing foam insert
Varmint guard - grey
Label and radon mitigation system information packet
CO monitor
Note: Fan sizing can only be completed through diagnostic measurements using industry-specific tools that the average homeowner will not have.  Unfortunately, returns or exchanges on fans for a different size will not be accepted.  If you want to ensure the optimal fan for the job, we recommend hiring a C-NRPP certified professional who performs installations based on the CGSB 149.12-2017 standard.
RN2 technical specs:
https://cdn.shopify.com/s/files/1/2777/6594/files/Fantech_Rn2_Inline_Radon_Fan_395cf8dc-92b0-4278-96af-1189779f64ad.pdf?v=1620768985