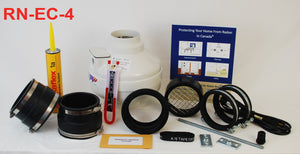 Mitigation kit - RN4-EC Fan - Do-It-Yourself - Sub Slab Depressurization
Regular price $765.00 Sale
This kit contains all the difficult to find bits to complete your own Do-It-Yourself Active Slab Depressurization radon mitigation system and Fantech's newest and largest fan. The Fantech EC line of fans differ from the others with variable speed controls.  Variable speed control is especially helpful for the Do-it-yourselfer that does not have the instrumentation to properly size the fan helping with noise reduction and energy efficiency.

The RN-EC4 can move 4.3 of suction while moving 20 cfm, as well as moving 490 cfm when operating at only 0.5" of suction.

These systems have demonstrated up to a 99% reduction in indoor radon levels. Just add pipe, pipe cement and some sweat equity, and you can start breathing safe again.
Health Canada strongly recommends hiring a certified C-NRPP radon mitigation professional.  Professionals can properly determine airflow and fan sizing requirements, seal radon entry paths, identify potentially deadly back-drafting situations, and properly seal building envelope penetrations. 
However - if hiring a pro is not an option, following the DIY manual included in this kit gives you a good chance at constructing a radon mitigation system that is both safe and effective.  Be sure to consult with a pro if you have any questions relating to the safety of your system.  
This kit is to be used with 4" schedule 40 PVC or ABS pipe.
Includes:

A Step by Step Manual - Protecting Your Home From Radon In Canada - Doug Kladder
RN-EC4 Fantech inline radon fan
Electrical cord (6' three prongs)
Electrical strain relief
Sealant indoor tube – 300ml
Uniseal 4" Bushing
Bracing kit with 2 noise-reducing ring clamps, 1' threaded rod, 2 ceiling plates, 8' of web strapping
4" U-tube manometer
Sound reducing foam insert
Varmint guard - grey
Label and radon mitigation system information packet
CO monitor
Note: Fan sizing can only be completed through diagnostic measurements using industry-specific tools that the average homeowner will not have.  Unfortunately, returns or exchanges on fans for a different size will not be accepted.  If you want to ensure the optimal fan for the job, we recommend hiring a C-NRPP certified professional who performs installations based on the CGSB 149.12-2017 standard.
RN-EC4 technical specs:

https://cdn.shopify.com/s/files/1/2777/6594/files/Fantech_Rn_4EC-4_Inline_Radon_Fan.pdf?v=1591150145